Plastic Free July Events, Tips and More
July 12, 2016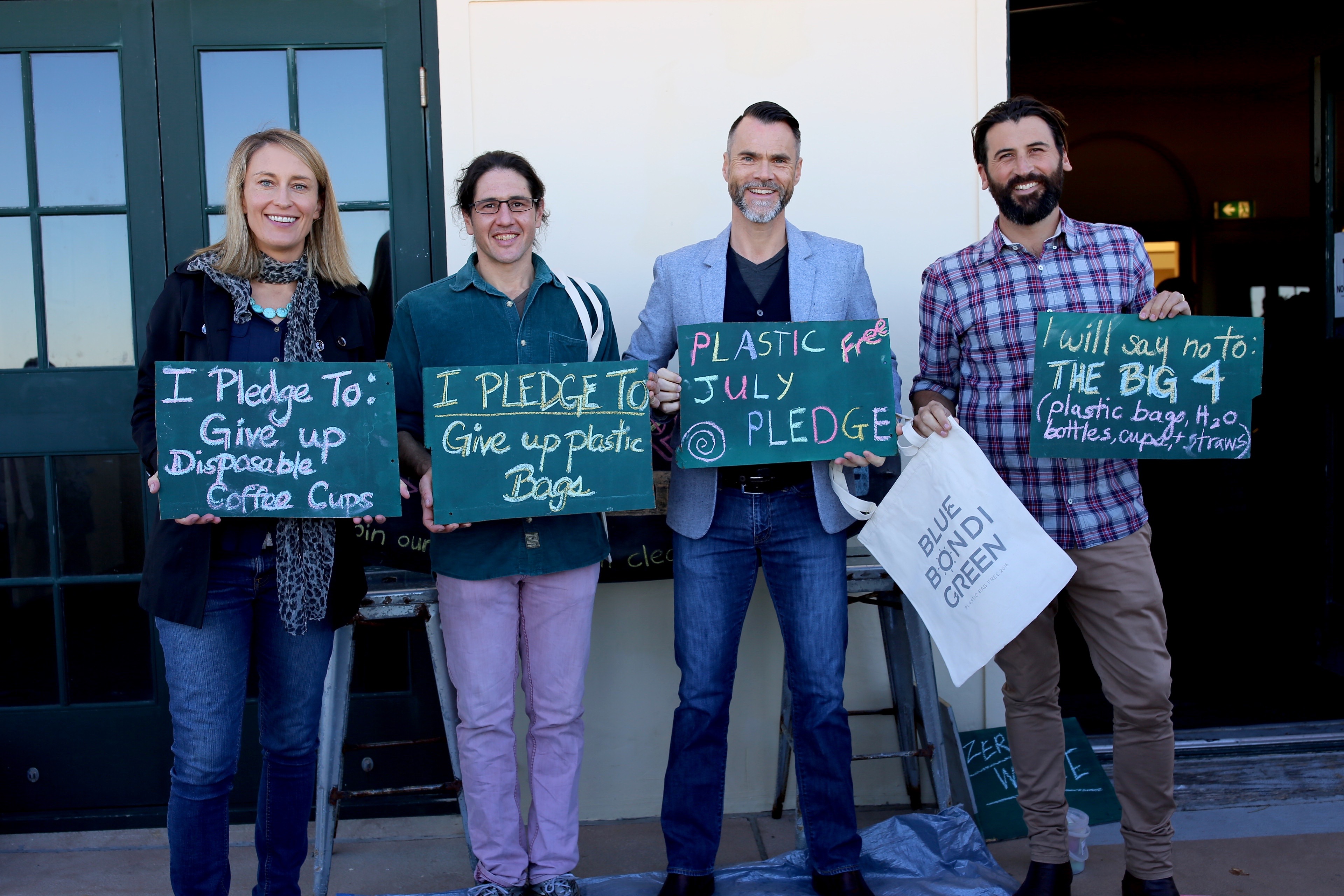 Plastic Paradise?
Ubiquitous and insidious, plastic is a fact of life. Or is it? More and more everyday people are quitting plastic as a way to reverse overconsumption and reduce toxic pollution. The popular Plastic Free July movement began in Perth, WA, in 2011 and has spread around the globe, with more than 36,000 people from 85 countries participating in 2015. Just last week, Morocco banned plastic bags. Then San Francisco passed an ordinance against styrofoam. If plastic is an illness, it seems the world is at least trialling new treatments.
Bondi Beach is doing its part to break the plastic habit, too. Transition Bondi joined forces with Waverley Council, Surfrider, Take 3, Living Ocean and the Responsible Runners to observe International Plastic Bag Free Day on 3rd July by co-hosting a film screening of local short Plastic Soup and feature film Plastic Paradise that attracted more than 100 people! Following the films was a panel discussion about the Blue Bondi Green plastic bag free campaign and the challenges of fighting the stuff locally and globally.
Hopefully a bag ban will naturally follow the recent container deposit scheme.
But for now, Blue Bondi Green, Plastic Free Manly and Plastic Free Byron are leading the way in NSW, and we at Transition Bondi will continue to educate the community and support local efforts to keep Bondi Beach a paradise – not a plastic paradise. That's why we're focusing on plastic all month long. Read on to find upcoming Film & Feast events, tips for going plastic free, an interview with a local Zero Waste champion, events around town, and a farewell to the Bondi Muggers.
To plastic freedom!
The Transition Bondi Steering Group
Upcoming Film & Feast Events
Plastic Free July Theme
Bag It
Wednesday, July 13
As a follow-up to International Plastic Bag Free Day, we bring you Bag It, an entertaining and informative investigation into plastic bags and the world's love affair with this powerful yet polluting material.
Zero Waste Living Theme
The Clean Bin Project
Wednesday, July 20 
Is it possible to live completely waste free? In this multi-award-winning festival favourite, partners Jen and Grant go head to head in a competition to see who can swear off consumerism and produce the least garbage.
No Impact Living Theme
No Impact Man
Wednesday, July 27
This Sundance-selected film provides a front-row seat into the familial strains and strengthened bonds that result from trying to make as little environmental impact as possible for one year.
TAKE THE PLASTIC FREE JULY CHALLENGE

Have you heard? It's Plastic Free July, a time to spread awareness about the problems of single-use disposable plastic and take action to do something about it. Do you accept the challenge?
6 Tips for Living with Less Plastic
Refuse. We know it's tough to say no to ALL single-use plastic but why not at least try to cut the TOP 4: plastic bags, water bottles, takeaway coffee cups and straws. While you're at it, sign the petition to help Bondi Beach go plastic bag free by the end of 2016, and follow the group that's leading the charge, Blue Bondi Green onFacebook and Instagram @BlueBondiGreen.
Build Your Kit. Refusing plastic is much easier if you come to shops and restaurants armed with a "kit." This kit is highly individual, but you might consider a light-weight coffee mug, water bottle, Tupperware, grocery bag, beeswax wrap and cutlery set, which can all fit neatly in a backpack or handbag so you don't have to think twice.
Compost. Food scraps comprise about 40 per cent of a given household's waste, so composting (see Community Events below for an upcoming course) will greatly reduce your landfill load and remove the need for plastic-bag liners in your rubbish bin. Waverley Council offers compost bins and worm farms at an 80-per-cent discount through the Compost Revolution site. The 241 Bondi Road Community Garden Hub accepts food scraps, and our volunteer of the month is helping apartment dwellers connect with compost bins through the Compost Exchange Facebook group. Also check out this handy Youtube video about how to line your bin with newspaper. If this adorable girl can do it, so can you!
Refill. Food packaging is the other major contributor to our household heaps. In Sydney, it's easy to reduce our packaging by signing up for a food delivery service like Ooooby or the Bondi Food Collective, which use little to no plastic. Then refill staple foods, oils and cleaners at shops such as Naked Foods, The Health Emporium, About Life and Scoop Wholefoods. Perfect Potion is good for soaps and Toby and Rosie at the Bondi Farmers Market can refill essential oils. Just don't forget your bottles and jars!
Buy Second Hand. Shop on Freecycle and Gumtree, or at such thrift stores as Vinnies and the Addison Road Community Centre for pre-loved goods.
Recycle. Here's where to take some common household items for recycling or down cycling. Disposal of other "waste" can be found on the Waverley Council website.
Soft plastics: Drop off at plastic bag recycling bins (like the ones at Coles or Woolworths) for "down cycling". TheRandwick Recycling Centre at 72 Perry Street, Matraville, also accepts soft plastics.
Batteries: Waverley Council Recycling Centre, 55 Spring Street, Bondi.
E-waste (including laptops and cables, tablets, monitors, TVs, printers, computer accessories and mobile phones): Randwick Recycling Centre, 72 Perry Street, Matraville.
Styrofoam: Randwick Recycling Centre, 72 Perry Street, Matraville.
White goods (appliances like dishwashers, fridges, microwaves, etc): Seek out second-hand dealers or sites like Gumtree to sell them, but if all else fails, theRandwick Recycling Centre accepts these too. Next Energy also runs a Fridge Buyback program.
Hazardous waste (paint, cleaners, chemicals, fluorescent globes and large batteries): Drop off at a Household Chemical CleanOut. The next one is this Saturday, July 16.
Volunteer of the Month: Elizabeth Macdonald
We talked with British Columbia expat and Transition Bondi
steering group member Liz Macdonald about her attempts to live 'Zero Waste'.
Could you tell us a bit about your background?
I'm a born and bred west coast Canadian. I've spent my life by the ocean – beach combing, boating, whale watching, crabbing, fishing, swimming, and eventually surfing. I work in the creative industry [for the ad agency Vitamin X] here in Sydney.
How did you get interested in environmental issues?
I started surfing in uni, which led me to volunteer with the Surfrider Foundation, which opened up my eyes to the magnitude of plastic pollution in the ocean. I also experienced how taking a small action, like picking up a piece of litter, could create feelings of empowerment. Reducing the trash I generate is a natural extension.
And how did that extend all the way to 'Zero Waste'?
I can't understate the importance of film and books. Some key reads have been
Collapse
,
The Ecology of Commerce
,
The 100-Mile Diet
, and
The Omnivore's Dilemma
. I saw a 2008 Vice documentary about the ocean gyres which primed me for my later involvement with Surfrider. And then I started to get all sorts of local inspiration: Taina Uitto, who was living plastic free and blogging about it; a documentary called
The Clean Bin Project
[see
Upcoming Films
above] made by a Canadian couple really lit a fire in me; my friend Bryce was doing it… The more I was exposed to the idea, the less crazy it all seemed.
What has that evolution been like for you?
Ha…oh boy. My transition to a less wasteful lifestyle has been gradual and filled with ups and downs –phases of deep commitment and lapses. The easy stuff, like refusing bottled water, takeaway cups and shopping bags happened early and resolutely. Then I started to seek out refill options, which became my new normal. I'll point out here that the working definition of 'Zero Waste' is a reduction of material waste by 90%, so let's not labour under a misperception that I produce absolutely zero waste.
90% still sounds pretty crazy! How do you do it?
I use a combination of avoidance, preference to packaging-free, ninja recycling skills, composting, and just generally slowing my rate of consumption and disposal to achieve it. The last 10% is important, however. Instead of pursuing diminishing marginal returns, like focusing all my time on finding the perfect biodegradable dental floss, I instead channel my energies into helping others make those small changes that achieve a huge impact.
What are the biggest barriers to living Zero Waste in Sydney?
Compost is going to be 40% or more of what the average person is sending to landfill, so lack of pick-up or drop spots in Sydney is a barrier. In a city where so many of us don't have yards, we need to create systems that allow everyone to recycle organics. [Liz is helping to change that with the
Compost Exchange
group on Facebook, however]. Otherwise, we're pretty lucky. Having a variety of excellent bulk refill food stores [see
Plastic Free July tips
for recommendations] helps immensely with the pre-cycling. Food packaging would otherwise be the source of most ongoing trash in a household like mine.
What kind of impact have you witnessed in terms of your reduction in household waste?
In the past year, my household [of two people] has produced about 1L or less of trash to landfill every one to two months, about 300g a month by weight. [The average Australian household produces roughly 125kg per month]. Any 'waste' I produce while I'm out comes home with me to be sorted, or composted, or to go into my jar of shame. I suppose that amounts to a 99.5-per-cent reduction! The caveat of course is that it's only material waste, so it's not capturing all waste, or all carbon. In fact, I'm taking a plane ride all the way to Canada this month! I'm not perfect.
Is there anything else about Zero-Waste living that you've learned or would like to share?
The idea of Zero Waste probably sounds aggro to some, with all this talk of refusing things, but it's an enlightening, creative, compelling way to live. Once you sort out your 'system' it becomes quite easy. There is a growing community of people who want you to succeed. I like to think of Zero Waste less as an outcome and more as a philosophy. Start wherever you are. Every transaction of waste is an opportunity to learn something.
Recipe of the Month: Sweet Potato Soup
Susan McCalmont wowed us with this flavourful soup a few weeks back at Film & Feast. The recipe below is good for a big winter feast.
Ingredients 
-Salt to taste
-Water
-Coconut milk
-½ tbsp coriander
-1 tbsp cumin
-3 onions, finely chopped
-4 cloves garlic
-Good sized nob of ginger
-Bunch of lemongrass, chopped
-Whole cauliflower
-2 kg sweet potato
Method
1. Heat lemongrass, ginger, garlic, onion and spices gently in olive or coconut oil until lemongrass and onions are tender
2. Add sweet potato and soften for about 5 minutes
3. Add cauliflower, coconut milk, water and salt to taste and bring to a boil
4. Lower heat and simmer for 20 minutes, or until sweet potato and cauliflower are tender
5. Mix in blender or food processor and serve.
Unfinished Business: Ocean Month
We regret that due to licensing restrictions, we are unable to host a second screening of David Attenborough's wildly popular Great Barrier Reef. Luckily, the full series is on sale through the ABC Shop and the Australian Museum is currently offering an Attenborough virtual reality experience.
Did you know there's a campaign brewing to create a marine reserve right here in Sydney? The Australian Marine Conservation Society is leadingthe charge, and is currently seeking businesses to sign on to a statement of support, which will be submitted to the NSW Premier, Minister for the Environment and Minister for Primary Industries. To learn more about Sylvia Earle's efforts to create a global network of marine reserves, check out her nonprofit Mission Blue.
We also confronted the harsh reality of overfishing in End of the Line and heard from Sandra Marshall about the development of Happy Fish Bondi and its forthcoming mobile app to track sustainable seafood from boat to plate. While we anxiously await this app, we can all download the sustainable seafood guide and app from the Australian Marine Conservation Society and check out the Marine Stewardship Council's product finder.
Around Town: Community Happenings & Events
Screening of Sustainable
13 July, 6pm, Artspace, Cowper Whard Rd, Woolloomooloo
Slow Food Sydney and Greenups will show the new American film
Sustainable
and host a panel titled "How sustainable are Australian farms?" More info
here
.
"Blackfella-Whitefella, Any Fella" Music Night, 16 July, 6pm, Captain Cook Hotel, 162 Flinders St, Paddington
A night of good music and good vibes hosted by YARN Australia & Sixty Thousand. For more info, check out the
Facebook event
.
Blacksmithing Fundamentals Course
19 July–23 August, Eveleigh Locomotive Workshops
Learn the foundation skills of the world's oldest trade in this six-week course, which will be offered again from late August through October. Sign up
online
.
Think Eat Save 2016
25 July, 11:30am–2:30pm, Martin Place
A national event put on by Oz Harvest, the United Nations Environment Program and the UN's Food Agriculture Organisation to take a stance against food waste, which is currently costing Australians up to $10 billion a year. RSVP
here
.
Composting and Worm Farming Workshop
30 July, 2–4:30pm, Paddington Community Garden
Get your hands dirty for a good cause in Trumper Park, Woollahra. (Enter via Quary St, behind the Palms Tennis Club). Book online through
City East Community College online
, or phone 9387 7400.
National Tree Day Yoga and Treeplanting
31 July, 9am–12pm
A great day for the body, mind and planet hosted by Waverley Council at Diamond Bay Reserve, Craig Ave in Vaucluse. Register online.
Kit's Corner
Monthly musings from a veteran Transitioner.
Farewell Bondi Muggers
Bondi Farmers Market is a vibrant place to be on a sunny Saturday morning. In this car-free zone, families can wander in a relaxed mode, sampling the variety of food and people. Every time I've been there with the Bondi Muggers in the past two years, I've found the crowds enthralling to watch and interact with. That I will miss. Our final Saturday was 9th July, two years after I stepped into the large shoes of Justin Bonsey who got the idea going. We had a vision of being there every week, to do our bit towards reducing the number of plastic lids and paper cups that end up in landfill (the number is currently around a billion; cups don't properly decompose due to the plastic lining on the inside). But to do that we needed a team of ten people to call on when we only had two or three. So we came every month instead, and one of the main faces of the Muggers was a Duke of Edinburgh student named Kirsty, who travelled cheerily from Pymble every month. Her keen interest in environmental issues, breezy manner and interest in talking about ideas soon made her an essential ingredient for the success of our stall, which has been especially helpful recently when we've had to borrow pots and boiling water from other vendors to wash our mugs…
The school's kitchen is no longer accessible to market stallholders, and that's the reason the Muggers will be moving on. Kirsty insisted on a proper farewell for our project, so we had a little pop-up party with performances where she told us what she's gained from the Muggers. "I feel more like an adult" she said, on the eve of her 18th birthday. Who knows what impact the Muggers have had. We were never mobbed for cups, but there was always a sprinkling of people who gave us a nod of approval or stopped to talk about their own brand of sustainability. Perhaps by simply being there, we didn't let the issue of waste disappear from people's minds. I, myself, don't think the guilt factor works deeply, but maybe it is useful as one of many triggers that can build towards a change of habits. Our legacy will live on in the form of two large posters – RESPONSIBLE CAFES – that now adorn the market's coffee cart (our "other half"). Customers are given a 50-cent discount on coffee if they bring their own cup. Hopefully this incentive will keep the momentum going, that Bondi Muggers helped create.
Kit, July 2016