Happy Fish Bondi
Did you know most wild fish could be wiped out in our lifetime if we continue business as usual? Scientists predict a 37% increase in seafood consumption by 2050, and that would lead to the disappearance of most wild fish according to the UN Food and Agriculture Organisation. Happy Fish Bondi wants to change this.
We started as a group of concerned locals, alarmed at the extent of the decline of fish and ocean ecosystems. Happy Fish Bondi has evolved into an independent social enterprise with the goal of making Bondi Beach Australia's first sustainable seafood destination. We inspire by raising awareness; giving consumers and businesses confidence in the supply chain; and showing how they can make a difference by choosing sustainable seafood at their fish and chips shop, restaurant, retail outlet, etc.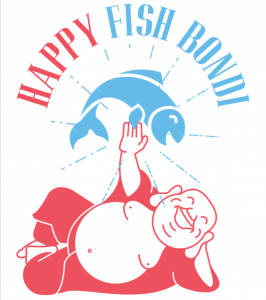 Through in-person interactions and a forthcoming app, Happy Fish Bondi provides simple information that is independent, transparent, trustworthy, and promotes businesses. This distinguishes it as a unique and practical solution to the widespread confusion and mistrust about what seafood is sustainable, where to source it, and the lack of reward for businesses who source seafood responsibly.
For more information or to get involved, contact Sandra Marshall at sandramarshall9(at)bigpond.com or +61 02-9130-3314.