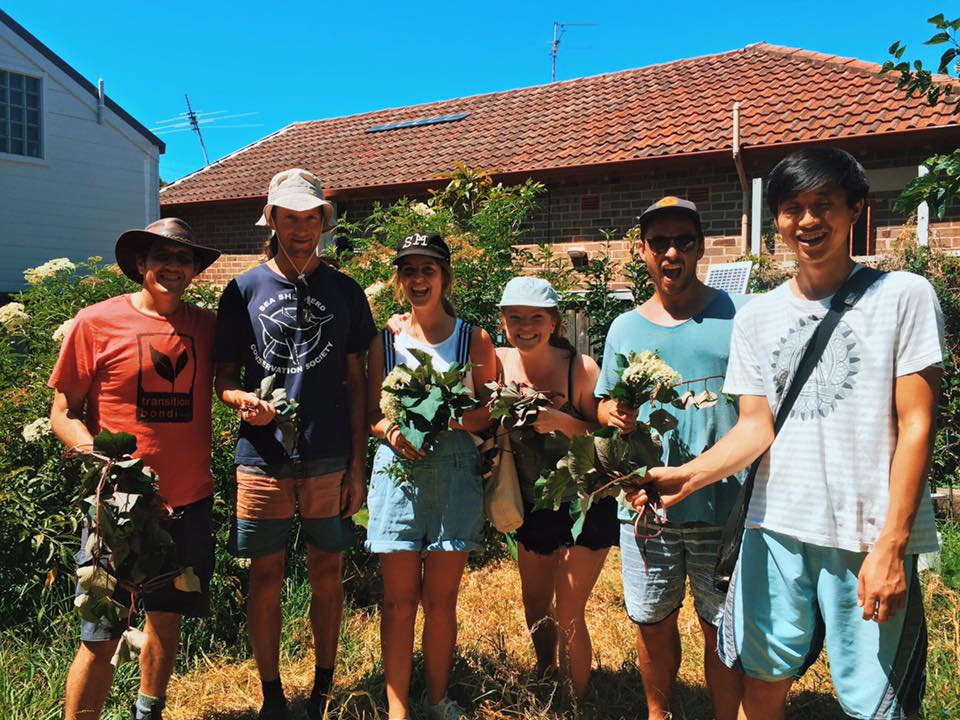 Are you an environmental steward who believes in doing your part to make your community happier, healthier, more resilient and more gentle on the earth? Would you like nothing more than to roll up your sleeves with like-minded people to address the issues of our time – from climate change to food security, plastic pollution to community resilience – and inspire others to do the same? If so, we'd love to hear from you!
Transition Bondi offers a range of volunteer opportunities as well as mentorship in sustainable living, vegan cooking, gardening, marketing, personal development, and more. And there are many ways to get involved.
How can I get involved?
Attend our monthly Film & Feast night on the third Thursday of the month. We always need volunteers to set up the room and clean up afterwards, as well as help cook our delicious three-course vegan meal in the Film & Feast kitchen. Film & Feast is held at 7pm at the Margaret Whitlam Recreation Centre in Waverley Park off Bondi Road.
Volunteer at the Bondi Beach Farmers Market on the second Saturday of the month. Whether you're a bike mechanic who wants to help run the Bike Workshop stall or a savvy communicator who can help spread the Transition Bondi message at our information table, working at the Bondi Markets is always a nice Saturday out. From 9am to 1pm at the Bondi Beach Farmers Market, located on the corner of Campbell Parade and Warners Avenue.
Come to our monthly Dig Day on the second Sunday of the month. Get your hands dirty, learn to grow your own food and help us build a thriving community garden for all of Bondi to enjoy. 10am to noon at the Transition Bondi Community Garden, 241 Bondi Road.
Join the Transition Bondi Steering Group. We meet fortnightly over dinner, usually on the second and fourth Thursday of the month, to plan the behind-the-scenes of all of our Transition Bondi initiatives. From marketing and project management to website design, social media and garden coordinating, all skills, people and backgrounds are welcome to be part of our small but mighty organisational team.
If you'd like to volunteer in the kitchen, join the Steering Group or get more involved in any of our initiatives, please email Kit at info@transitionbondi.org.